EVA Waterstop Has High Elasticity and Tensile Strength, Anti-Corrosion
EVA waterstop is a kind of new type waterstop. It is made of polyvinyl chloride, EVA resin and a variety of additives by special production processes. High quality materials make it have many functions and advantages. EVA waterstop with high elasticity and high tensile strength is not easy to be damaged by stretching. EVA waterstop has excellent corrosion resistance. So it is not corroded in the underground constructions or waste water treatment facilities. EVA waterstop is widely used in the structural joint of the building foundation to to prevent leakage and prevent seepage. And our products are in line with international standard. You can use it without any worries.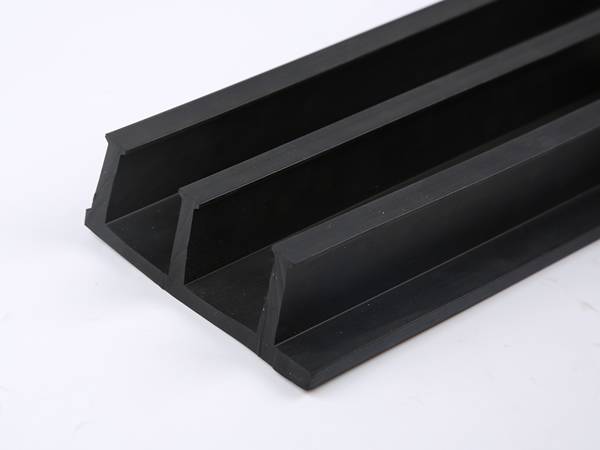 EW-1: Black EVA waterstop.
EW-2: White EVA waterstop.
Properties
Table 1: The Properties of EVA Waterstop
Item
Parameter
Tensile strength at break (MPa)
≥ 16
Elongation at break
≥ 550%
Tear strength (kN/m)
≥ 60
Watertightness (30 min. without leakage)(MPa)
0.3
Cold bending (°C)
≤ 35
Stretching and shrinkage amount of heating (mm)
Stretching
< 2
Shrinkage
< 6
Hot air aging 70 °C × 168 h
Tensile strength retention at break
≥ 80%
Elongation retention at break
≥ 70%
100 % elongation appearance
Without crack
Alkali resistance 110% Ca(OH)2 normal temperature 168 h
Tensile strength retention at break
≥ 80%
Elongation retention at break
≥ 90%
Production and Package
We have huge production workshop and many advanced advanced production equipment to produce high quality EVA waterstop.
EVA waterstop can be packed as rolls with rope. And EVA waterstop rolls can be packed in the cloth bags.
EW-3: EVA waterstop production workshop.
EW-4: EVA waterstop production machine.
EW-5: Black EVA waterstop rolls packed in cloth bags.
EW-6: White EVA waterstop packed in cloth bags.
Feature
High elasticity and tensile strength.
Excellent weather resistance.
Excellent waterproof performance.
Corrosion resistance, acid and alkali resistance.
It can withstand high Hydrostatic pressure.
It can bear shocks of heavy turbines, earthquakes and floods.
High flexibility, easy to install.
Application
Foundation.
Constructions.
Retaining walls.
Parking garages.
Bridge.
Deck abutments.
Storage tanks.
Tunnels.
Dams, canals.
Water reservoirs.
Water and waste water treatment facilities.
Primary and secondary containment structures.
EW-7: EVA waterstop is used in foundation to prevent seepage.
EW-8: EVA waterstop is used in retaining walls.
Products List
Document
Joint Waterstop Catalog