Ω Type Inserted Rubber Waterstop Has Easy Install and Replace, Anti-Aging
OMW-01: Ω type inserted rubber waterstop.
Ω type inserted rubber waterstop, also called Ω type inserted rubber sealing, is a kind of flexible rubber waterstop. Its middle is semi-circular structure and both sides are flats structure. The middle of the semicircle structure is to have better stretch and compression in the deformation process of expansion joints. It is not poured into concrete. It is installed on the concrete surface through slotted after the concrete construction is completed. Ω type inserted rubber waterstop can be used as a kind of waterproof measure as a late remedy. If the expansion joints leaking, we can add a layer of Ω type inserted rubber waterstop later. If the Ω type inserted rubber waterstop is also destroyed, you can remove the original and then re-install a layer. In addition, our waterstop product with high elasticity and corrosion resistance is not easy to be damaged. It has a long service life.
Specification
Material: natural rubber, neoprene rubber, EPDM etc.
Width: 200–400 mm. Other specifications also can be customized.
Length: We can customize any length according to your request.
Temperature range: -45°C to +60°C.
Feature
High elasticity and compressive deformability.
Corrosion resistance, wear resistance.
Removable, easy to install and replace.
Aging and tear resistance, long service life.
Good adapt to deformation ability.
Excellent waterproof performance.
Installation tips
Embedded bolt construction. Embedded bolts must be fixed on the steel plate in advance, and then pour the concrete. The concrete that under the embedded steel plate should be shocked and mashed.
The corners of the deformation seam should be made circular arc or 45° angle. Arc radius should be based on the length of embedded bolts to determine. The distance between two adjacent bolt heads can not affect the installation of the waterstop.
Embedded steel plate and plywood also should be made into the same shape. When embedding the bolt, we should use PVC tube to protect bolt after coated with butter.
The fix of Ω type inserted rubber waterstop.We should use belt punching to fix the waterstop according to the actual position of the bolt.
During the entire installation process, must not be hard to pull the waterstop.
The space between waterstop and embedded steel plate should use asbestos cardboard or soft metal sheet to make it tighter.
Application
Underground construction.
Dam.
Storage tank.
Water reservoirs.
Swimming pool.
Bridge.
Tunnel.
Water and waste water treatment facilities.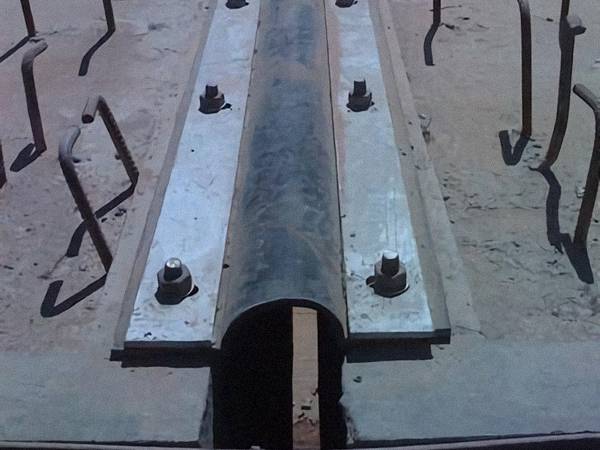 OMW-02: Omega seal can be used in construction joints.
OMW-03: Omega seal can be used between the sectional elements of immersed tunnel waterstops.
Products List
Document
Joint Waterstop Catalog